Infant/Toddler Massage Classes for Parents and Caregivers
~Parents learn how to massage baby~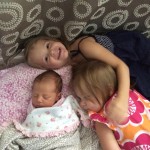 Most of us know the benefits of massage as adults. Massage is relaxing and stimulating.
WebMD states "The aim of bodywork is to realign and reposition the body to allow natural, graceful movement." What a beautiful way to connect with our babies.
This class will teach a multitude of hand positions while empowering parents and caregivers. First and foremost, we identify who is in charge of the class and the flow of the class: THE BABY OF COURSE!
Each class will be 60-90 minutes in length. Unless, of course, baby says less. Will they cry, will you need to nurse him or her? Maybe.
So, that's how we identify THE BABY IS IN CHARGE. What they say, goes. This class is to be educational but FUN.
The curriculum includes, but is not limited to, the following:
Massage 101 – benefits of massage for baby including short history of massage
relaxation technique for caregiver
how to include older siblings
basic massage definitions such as effleurage and pertrissage
basic premise of energy and massage
routine for baby massage/gentle stretching – from start to finish
discussion of when to and when not to massage
practice sessions for baby
questions and answers at the beginning each class
This class process is taken slow. Again, we identify that THE BABY IS IN CHARGE. We will offer one-on-one class setting to accommodate our parents and their busy schedules. We, Reiki Center, pride ourselves for taking into consideration that no ones schedule is alike. For that reason, one-on-one class is the easiest and always available.
The class consists of:
five class dates set up.
each class consists of 60-90 minute depending on the baby
handouts are given to parents for quick referencing
Even though we initially set up the class dates, we also understand that things change and rescheduling is a possibility. Nothing is "carved in stone" and rescheduling is always a possibility. This is to RELAX AND ENJOY the process and technique you will learn.
Class Fee: $250.00
***The information during class and on this site is not to be construed as medical advice. It has been compiled from many different authoritative sources and is provided for informational purposes only.