The Reiki Center Team
Reiki Center and the many volunteers provide educational programs as well as demonstrations to the to the community such as corporate environment, community-sponsored wellness events, Organizational and Medical/Clinical Environments, as requested. During these events, information or PowerPoint Presentation (with speaker) is provided concerning how these modalities can offer amazing results coupled with essential oils, where applicable. The "Reiki Center Team" travel to the events and the feedback has been very rewarding to the volunteers.
Beginning in 2011, a Reiki Team was gathered and consisted of those individuals that wanted to educate the community of the benefits and validity of Reiki. By 2016, Reiki Center and its volunteers traveled to three different counties attending over 35 wellness events and increase attendance each year. In 2018, the Center was at 61 different events within our community . The events have proven to be very effective with educating the different types of modalities and identifying basic needs of the body including air, water, nutrition and the importance of the body's balance: mind and body.
A weekly Reiki volunteer program began in early 2014 in a long-term/short-term care facility. Within 18 months of beginning the program, 368 documented sessions were completed. According to Ms. Pecka, "We believe that we can make a difference with natural methods to increase the awareness of balancing mind and body to enhance the quality of life."
By 2019, The Reiki Team completed, in one year, 67 Educational Events for various organizations, traveled throughout five counties for Corp Wellness Events and continued increasing data to show relevance and validity of Reiki using Pre-Session/Post-Session data sheets. The Reiki Center team members worked with cancer clinics, pain management clinics and the medical/clinical environments consistently. The collected and validated data was presented to various organizations, and the Center continues to fulfill its mission that began in 2011.
Since 2020 had its challenges, most work outside of the Center was halted to keep everyone as safe as possible. The Team looks forward to getting back to the corporate environment.
2021 – HAPPY 10TH ANNIVERSARY TO THE REIKI CENTER !
FRANZ R PECKA, LMT, CMLDT
(MSG#009141)
Franz is a Licensed Massage Therapist and Certified Manual Lymph Drainage Therapist. He is also a Jikiden Reiki® Practitioner. Franz began his career life by earning his business degree as well as a Master Tool and Die Maker in Saarbrucken, Germany and was employed by SKF Industries in Germany and the United States.
He retired from the SKF, Altoona Plant, after 32 years and embarked on his new journey and career. With his wife, Deborah, they began Reiki Center for Body and Mind, Inc. Franz continues to enhance his massage practice by addressing the needs of the clients and continually pursues additional educational opportunities. He offers "Therapeutic Massage" and the following key specialized modalities: Myofascial Release Massage, Manual Lymph Drainage Massage and Deep Tissue Massage. Franz is also a Jikiden Reiki® Practitioner.
DEBORAH L PECKA, LEHP, BCTN, BFRP
Shihan (Teacher)
Jikiden Reiki®, Kyoto, Japan
JIKIDEN REIKI® TEACHER/PRACTITIONER
Deborah Pecka is a Licensed Ecclesiastical Holistic Practitioner, Bach Foundation Registered Practitioner, through the Bach Centre in Mount Vernon, England and Board Certified Traditional Naturopath. She completed her education through Trinity School of Natural Health.
She is a registered Eastern Reiki (Jikiden Reiki®) teacher (Shihan) and practitioner through the Jikiden Reiki Institute in Kyoto, Japan.
Deborah began her career in the banking industry and taught within the post-secondary educational system within business administration program and medical office administration program at an Accredited Career College environment. After several years, she accepted the position as Director of Financial Aid.
While establishing Reiki Center for Body and Mind, Inc., Deborah continued to increase her knowledge with Complementary and Integrative care and continued her responsibilities as the Director of Financial Aid. In 2013, Deborah resigned her position in the corporate environment to work full-time at the Reiki Center.
Deborah organizes and presents at various wellness events within the community to provide education of how the integrative care system can benefit individual quality of life. These presentations/speaking engagements offer a clear look of different modalities while the "Team" does demonstrations. She also organizes Staff Appreciation events, Corporate Wellness events and accepts new clients at the Center. She is a member of the NPO-IJRA, GEMA Association, Holistic Health Association and is on the BOD at GIN (Geriatric Interest Network (GIN) representing the Integrative Health Environment. She is also the GIN Programming Chairperson.
ANGELA ZIMMERMAN
JIKIDEN REIKI® PRACTITIONER
Angela graduated from Bishop Guilfoyle in 2001. She attended Mount Aloysius College, graduating magna cum laude, with a bachelor's degree in Psychology and a minor in Legal Studies. Right after college graduation Angela started her first job at Family Intervention Crisis Services as a Family Therapist. She worked as a family Therapist until she purchased a childcare Center in 2007. In 2015, Angela sold the center to stay home with her children. It was at this time she became fascinated with integrative care modalities and she was trained in Essential Oils Techniques and is a Jikiden Reiki® Practitioner, practicing casually. Angela decided to go back to work in 2016 and started the position as the Facility Coordinator/Events Manger at the Jaffa Shrine Center. In 2018, Angela decided to pursue her ongoing interest in the integrative care system. She began seeing clients on a more regular basis and is an independent contractor at Reiki Center and is available to help people become the best they can be utilizing holistic methods. She currently lives in Hollidaysburg with her husband, Jason, and their three daughters. She currently a drug/alcohol counselor.
TIM TROUTMAN, LMT
SHIHAN KAKU (Assistant Teacher)
JIKIDEN REIKI® PRACTITIONER
Tim is a Licensed Massage Therapist, Jikiden Reiki® Practitioner and Jikiden Reiki® assistant teacher (Shihan Kaku) within the Jikiden Reiki® Institute in Kyoto, Japan. Tim travels with the Reiki Center to educate and demonstrate the Integrative Care system. His interests lie in natural wellness and that began at a very young age. Tim works with Reiki Center to present and demonstrate Reiki for our community and corporate events and continues his Reiki education through the Jikiden Reiki Institute Kyoto, Japan. Tim also instructs the community of the efficacy of essential oils.
JANNETT TREXLER
JIKIDEN REIKI® PRACTITIONER
Jannett retired in 2007 from a very active professional life. Since retiring, Ms. Trexler became involved with Reiki Center through her training with Reiki for Caregivers and continued her Reiki training with Eastern Reiki and is a certified through the Jikiden Reiki Institute in Kyoto, Japan. As such, she has become involved in volunteering throughout the central Pennsylvania area, assisting with demonstrations of Reiki at Health and Wellness Events giving Reiki sessions for both public and private programs. Ms. Trexler was instrumental created a Reiki Clinic at a local long term/short term care facility in Hollidaysburg, PA. One day each week, Reiki practitioner volunteers provide Reiki relaxation sessions for both residents and staff: 368 sessions were documented.
KAREN MCCREARY
JIKIDEN REIKI® PRACTITIONER
Karen became involved with Reiki Center through her Jikiden Reiki® Practitioner training and became a member of the Reiki Center Team. As such, she has become involved in volunteering throughout the central Pennsylvania area, assisting with demonstrations of Reiki at Health and Wellness Events and providing Reiki sessions for both public and private programs. She is an essential oils wellness advocate, assists with new students, and continues with reflexology.
MARYANN TAYLOR, LMT
(MSG#007577)
Maryann is a Licensed Massage Therapist. After years as a practicing massage therapist, she began teaching in an Accredited Massage Therapy Educational environment. She taught several courses such Swedish, Geriatric, Infant and Pregnancy Massage, Trigger Point Therapy, CPR/First Aid and Anatomy and Physiology. She was the Massage Clinic supervisor assisting students with how to manage the massage business environment. Maryann continues her education by participating in continuing education classes.
SIDE NOTE ABOUT THE TEAM
They continue, "this is only the beginning; many other wellness areas can and will be welcomed in the future." They said they hope to bring as much awareness to natural methods to wellness and quality of life and will continue to add modalities to the Center. They embrace the community by traveling to education so the community can experience the calming and peacefulness of these modalities. They will continue to bring awareness by consultations and education to individuals who choose to approach quality of life by identifying the body's needs by through nutrition, water, etc; by utilizing the balance of mind and body; and by embracing the self-empowerment. "We will go when invited and educate by giving", they said
The following are some place they have traveled: VA MEDICAL CENTER (ALTOONA, DUBOIS, STATE COLLEGE, JOHNSTOWN, HUNTINGDON), UPMC-EMPLOYEE WELLNESS EVENTS, BLAIR COUNTY COURT HOUSE-EMPLOYEE WELLNESS EVENTS, SOUTHERN BLAIR SENIOR CENTER, NORTHERN BLAIR SENIOR CENTER, MCCULLOUGH HOUSE, THE OAKS, SHEETZ, BRYCE JORDAN WELLNESS EVENT, CENTRE COUNTY MUNICIPAL, ALLEGHENY LUTHERAN SOCIAL MINISTRIES, HOLLIDAYSBURG LUTHERAN HOME, HILLCREST APTS., CAMBRIAN CARE CENTER AND AMBER TERRACE, MIRROR MOMS, ALTOONA MIRROR, ALTOONA CENTER FOR LUNG DISEASE (STAFF APPRECIATION) HOME HELPERS, SEIMONS LAKEVIEW MANOR-SOMERSET, PENN STATE WELLNESS EVENT, ANNUAL NURSE PRACTITIONERS CONFERENCE, ALTOONA CENTER FOR NURSING, VA MEDICAL CENTER-WELLNESS EVENT, VA MEDICAL CENTER-CAREGIVER EVENT, APPVION WELLNESS EVENT, APPVION EMPLOYEE APPRECIATION, CONEMAUGH VALLEY PAIN MANAGEMENT CLINIC, CONEMAUGH CANCER CLINIC…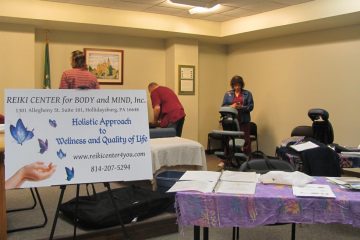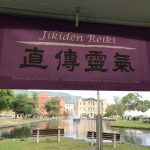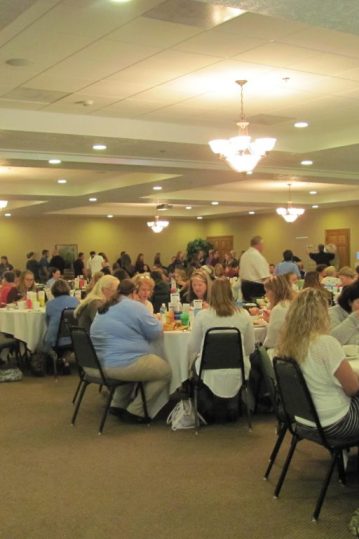 Conemaugh Medical Group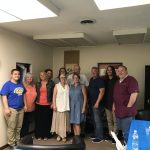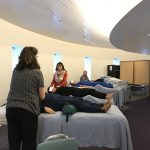 Earth Day at Sheetz